Happy Sunday everyone!
I hear a healthy part of the country is snowed in. While that's not exactly the case in Arizona, we did cool off a bit this weekend. Yay, we're below 90! Anyways, I haven't left the house much in the past two weeks, but I finally ventured onto the internets and discovered some amazing sales this weekend. Since I'm through that awful Gumby stage of the post-partum experience (you know the one where you're all stretched out and leaking, and white as a ghost, and just basically the most unattractive you've ever looked...) I'm finally in the mood to shop a little. Here are some good deals for this weekend. But hurry fast, they end today!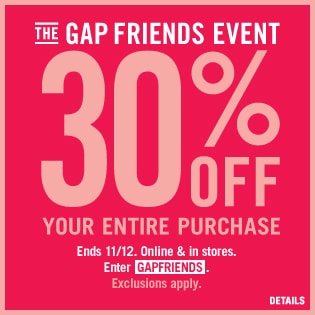 Gap is giving you 30% off your entire purchase:
I'm kind of in love with their baby girl clothes right now (I wonder why??) Thinking about this, this, and this for Miss Ava. And maybe this, for Miss Hannah. Plus this and this for the boys...
Loft: friends and family sale is on this weekend. 40% off everything!
I bought this lovely shirt a week ago and it's amaze. Love the exposed back zipper, wish I had gotten it 40% off... oh well. I also picked up these pants which I can't wait to wear after I hem them a bit.
Almost bought this top when I was in the store the other day, might have to pick it up now.
J Crew: nothing too fabulous, but they are offering free shipping this weekend.
Happy Shopping!